The idea of releasing a movie on Thanksgiving holds tremendous appeal. A long five-day weekend with almost everything shut down but theaters is catnip for the studios. On top of that, if a film does well, the hope is that it will have enough momentum to carry it through to the highly lucrative Christmas season.
The problem is that Thanksgiving is not a guaranteed win for all films. While family and animated films do especially well over the holiday, almost everything else struggles. In fact, over the past two decades, seven of the nine movies with the highest Thanksgiving opening weekends have been PG-rated family films.
In recent years, though, the studios have made progress in cracking the code for success beyond family films. Warner Bros. released CREED on Thanksgiving in 2015, and it debuted to $29.6M. Three years later, MGM put out CREED II to even greater success with an opening of $35.6M. A year later, in 2019, Lionsgate dropped KNIVES OUT on Thanksgiving to the tune of $26.8M and $165M in total.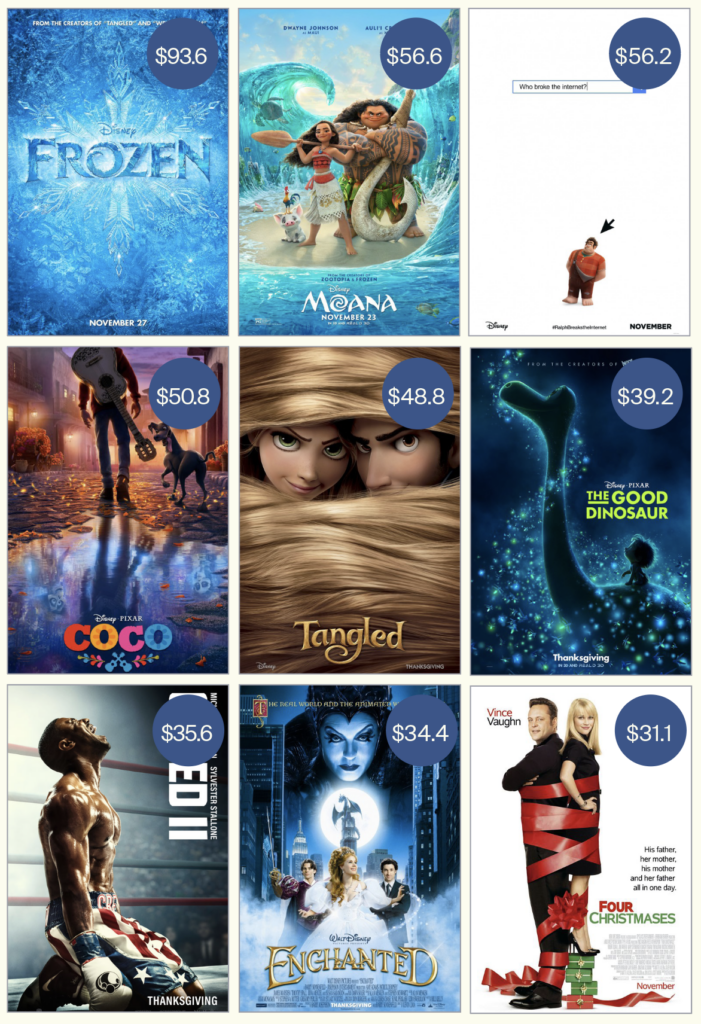 So there is precedent for non-family films to find an audience, even if it's at a smaller scale than the behemoths. But these breakthrough successes are for movies that are rated PG-13. R-rated films fare far worse on Thanksgiving. And that's why it's surprising that United Artists has decided to release the hard-R BONES AND ALL this Thanksgiving.
To be clear, it's not shocking that the film is opening on Thanksgiving, rather the surprise is that the film is getting a wide release. But we like when a studio takes a big swing. And that's precisely what United Artists is doing with BONES.
BONES represents a reunion for CALL ME BY YOUR NAME director Luca Guadagnino and its breakout star Timothée Chalamet. Both were Oscar nominees for that film. CALL ME was also a Thanksgiving release, but unlike BONES, it was given a slow, well-curated platform rollout. It played in four screens for two weeks and was under 200 playdates for its first eight weeks. The film never reached more than one thousand theaters at its widest.
Back in 2017, CALL ME traveled the festival circuit. It launched in Sundance and a few months later it screened at the Toronto, Berlin and New York festivals. BONES also premiered at a festival, this time at Venice. With similarly strong reviews, it looked like BONES might be getting groomed to have the same platform release as CALL ME. But that was not UA's plan.
So, what kind of numbers can we expect for an R-rated wide release on Thanksgiving weekend? Over the past 20 years, 16 R-rated films have given it a go. Most recently, HOUSE OF GUCCI opened to $14.4M, which was good enough to rank 2nd among the 20 titles. But as you can see above, none have opened above $20M. In fact, none have come close. HORRIBLE BOSSES 2 is tops with a $15.5M debut.
The average opening is $10.4M and the median is a little higher at $11.4M. It's worth noting that if BONES can match that $10M average, it would be well on its way to being Guadagnino's highest grossing film. CALL ME may have had a more nuanced release, but it topped out at $18.1M.
If BONES reaches $10M, it would be quite a feat for a romantic horror story featuring a pair of cannibalistic lovers. Reviewers have called the film "gruesome," "garish," and "grotesque." That may not marry well with a holiday that's about turkey, tryptophan and family.
Also working against the film is the fact that this Thanksgiving is especially crowded. Joining the party is Disney's animated film STRANGE WORLD and Sony's Korean War fighter pilot drama DEVOTION. On top of that, Steven Spielberg's Oscar favorite, THE FABELMANS, will expand wide after a two-week limited run
To find out if BONES has a shot at reaching a $10M opening, let's look at the numbers. Starting with awareness, none of the four Thanksgiving releases show much strength. Even STRANGE WORLD (light yellow), the favorite to win the holiday box office, is on the low side with 24% awareness (that's a story for another newsletter). It's worth noting, however, that these numbers may look very different a week from now.
That's because we've had new trailers for STRANGE, FABELMANS and BONES all within the past few weeks, with the BONES trailer only arriving a few days ago. So we will reserve judgment until we can fully see the impact of those trailers in the data.
On the interest side, it's a similar story. STRANGE (sky blue) and DEVOTION (teal) lead the pack with interest scores of 5.1 and 5.0, respectively. But again, none of these films is tracking especially well, though BONES (black) did have a nice uptick this week.
What does this all mean?
None of these films have yet to position themselves as the clear Thanksgiving weekend front-runner, though STRANGE has to be considered the favorite given how well Disney has done with animated films on this weekend in the past.
As for BONES, it's too soon to say if it has a shot to reach $10M. Let's see how the new trailer plays out. But while we wait for those numbers, let's celebrate the fact that United Artists is betting on attracting a wide audience. In the topsy turvy world of post-COVID theatrical movie distribution, it's a refreshing move.