By now, we all understand the importance of premium large format (PLF) screens. Reportedly, PLF screens accounted for 42% of the grosses for THE FLASH. And we're all familiar with the brouhaha over IMAX screens between MISSION: IMPOSSIBLE – DEAD RECKONING PART ONE and OPPENHEIMER.
When it was announced at CinemaCon that MISSION would be opening two days earlier on Wednesday, July 14th, it was not necessarily a favor to the fans; it was to give MISSION nine days on IMAX screens before OPPENHEIMER's exclusive three-week run on all IMAX screens.
As if you needed any more proof that Paramount considers PLF a priority, just look at these six posters catering to each of the various PLF formats. Yes, the studio wants you to know that MISSION will be on all of the various large format screens near you.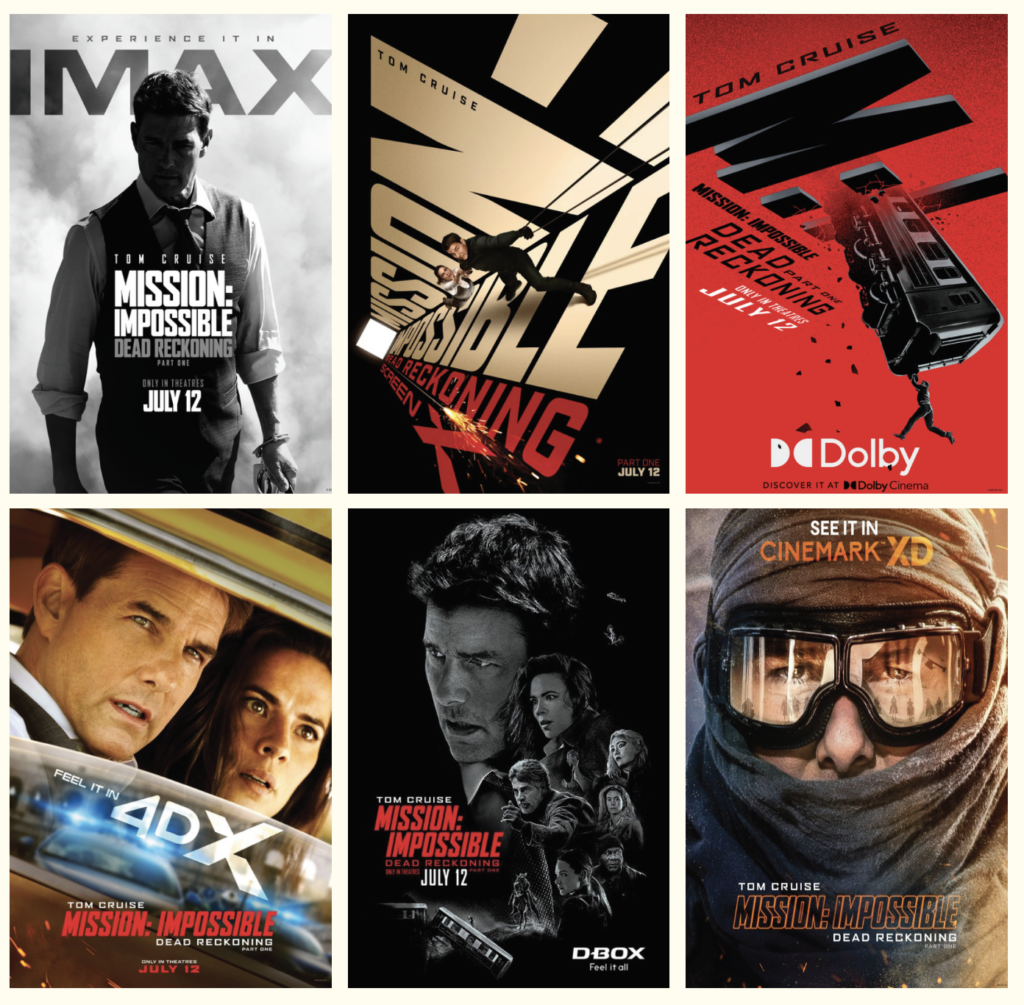 PLF-specific posters are not new, though they've become more common in the post-pandemic era. Here, for example, a series of one-sheets for ANT-MAN AND THE WASP: QUANTUMANIA and AVATAR: THE WAY OF WATER
What's interesting is that, unlike the ANT-MAN and AVATAR artwork, all six MISSION posters look like they're from different movies. There's a moody-black and white noirish pic and a two-color red and black poster that evokes the artwork of Hitchcock. There's even one that looks like it could be for a Gerard Butler desert drama. That's not to say that's a bad thing. If these were for different films, we'd probably see all six of them. It's just very unusual to find key art straying so far from the core design theme. In the case of MISSION, a common theme has been vertical typography, as seen in the teaser and character posters.
PLF has gone from a niche revenue source a decade ago to a meaningful driver of box office dollars. And given that the supply of these screens are smaller than the demand, it is becoming increasingly important for studios to communicate that their movies will be available in these formats. That means we should expect studio marketing teams to continue touting their presence on those screens. And in the case of MISSION, this artwork, which has been featured on the film's social pages, is key to getting butts in the PLF seats before OPPENHEIMER shows up.