Something important will be happening this summer. With THE LITTLE MERMAID and BARBIE, studios will be releasing two high-profile films catered towards younger women for the first time in the post-pandemic era. Until now, titles like HOCUS POCUS 2, DISENCHANTED, and ENOLA HOLMES 2 were only available on streaming services.
Sure, we had THE LOST CITY and WHERE THE CRAWDADS SING, but neither one of those are on the scale of MERMAID or BARBIE.
While the tracking numbers for MERMAID look very strong – it ranks #1 in awareness and #6 in interest among all the films currently being tracked by The Quorum – BARBIE seems to be struggling. With six months to go before release, is there cause for concern? Maybe.
For starters, let's take a look at the box office universe for BARBIE. Any tracking analysis begins by looking at a film's "box office universe." This is the expected performance range based on specifically selected criteria.
In this case, we have isolated films that opened in the second half of July between 2013 and 2022. Animated, horror, superhero, and R-rated movies were excluded. BARBIE has a reported production budget of $100M, so this list includes only films with budgets in the $100M – $150M range.
The final list includes seven titles with opening weekend ranging from a high of $59.2M to a low of $13.4M and a median of $46.0M.
The box office universe helps us understand what an expected opening might be for BARBIE. In this case, we are eyeing an opening near or above $46.0M in success.
But when we look at awareness, at 36% BARBIE (dark yellow) may be well ahead of CRAWDADS (tan), but it trails both HOCUS POCUS 2 (light yellow) and MERMAID (brown) at the same distance from release.
As noted above, MERMAID tops the awareness chart at 55%, but BARBIE is stuck down at #18 with 35% awareness.
Unfortunately, the situation is even worse on the interest side.
Looking at the same group of comps, BARBIE (navy blue) has the lowest interest score at 4.7. That's well below the score of 6.2 for MERMAID (black) at the same distance from release. Furthermore, interest in BARBIE seems to be declining despite the highly publicized teaser trailer from two weeks ago.
Interest is so light that BARBIE ranks 45th among all the films being tracked by The Quorum. And therein lies the problem. Awareness (rank of #18) for the film is proportionally much higher than interest (rank of #45), which suggests that even though people know about the film, they don't necessarily want to see it.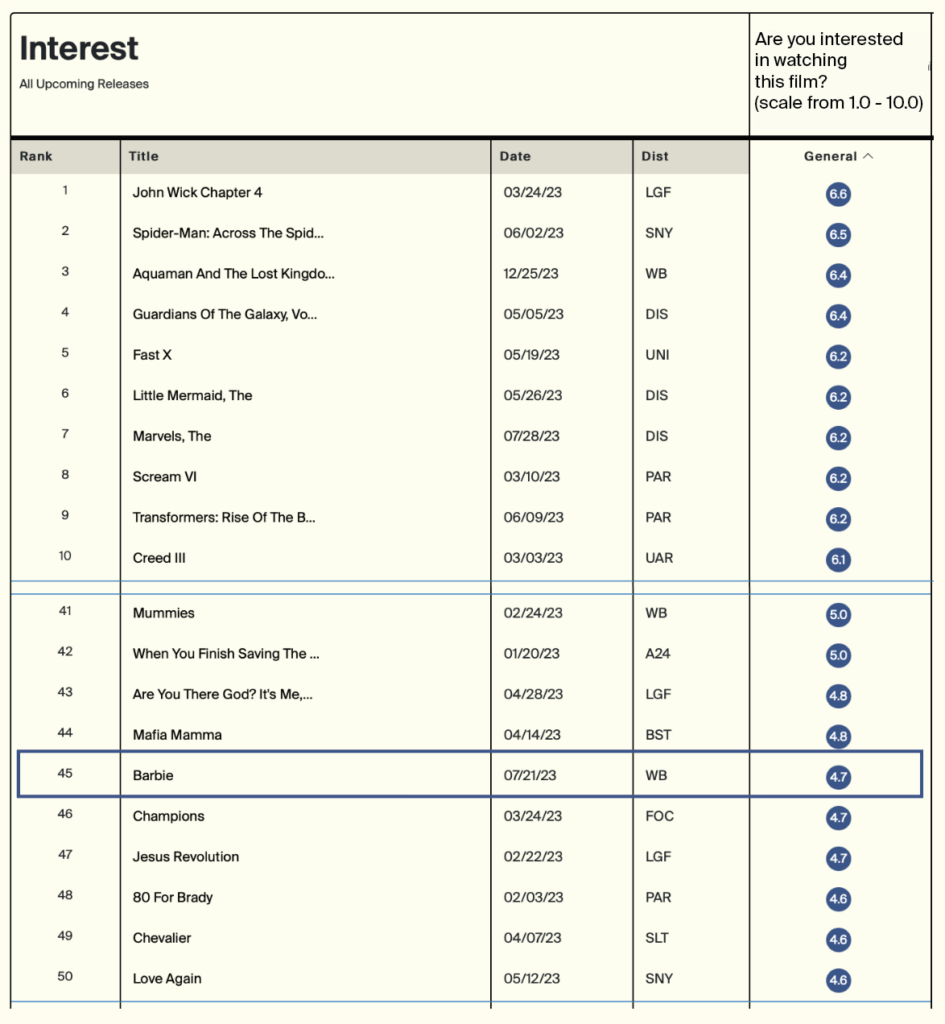 Now, yes, it's fair to say that we're making judgments on a film that is still six weeks away from release. But, at the same time, Warner Bros. has given us as much material (still images, a teaser trailer) as MERMAID, yet the numbers for MERMAID are much stronger.
Ok, but MERMAID is a sequel to a beloved animated film. That must be a factor worth considering. Perhaps, but BARBIE is far from an unknown entity. She has been a beloved figure for decades. So it's not entirely apples to oranges.
What does this all mean? Basically, it means that when the campaign kicks into full gear, the material that comes out has to be far more compelling than what's been released so far. Otherwise, interest may languish far lower than anyone would like.